Everything you need to know about website security and domain privacy protection
Posted in by
Tudip
at 07:07
Comments Off

on Everything you need to know about website security and domain privacy protection
Everything you need to know about website security and domain privacy protection
19 July 2021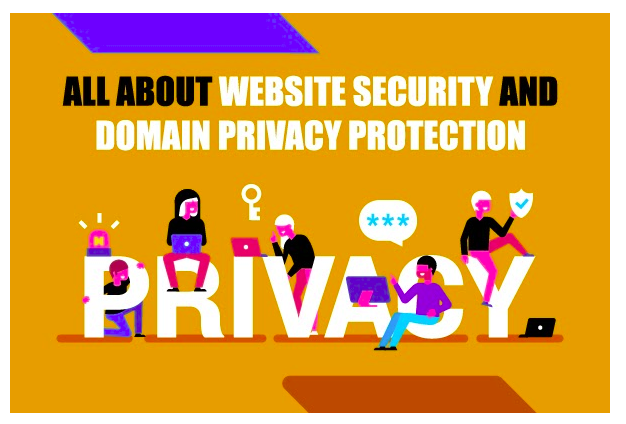 Businesses are increasingly using their website as one of the means to collate customer information. The use of data can help them undertake several activities that can pertain to providing better services, cross-selling or up-selling products, or customer support. Businesses can also store financial information of customers needed during subscribing services or buying products online.
The number of cyberattacks targeting large and small businesses has increased. There must be proper processes in place to prevent these attacks. While an online presence is necessary, the website must be protected, too, as any data breach can lead to severe penalties from the government. This article will discuss some of the tips for website security and highlight the need for domain privacy.
What is website security?
Your website helps to reach out to a large audience with your personalized messages. Most companies have been using their website as a primary mode for gathering leads. The website must be protected against attacks by hackers, and adequate policies must be taken, and procedures adhered to prevent a data breach. Your website can be targeted by several means, and they could be among the below.
Malware:
These are malicious software that is harmful to the devices on your networks. Cybercriminals use them to gather data from your systems through fraudulent means. The malware can be delivered over your networks and can perform any activity or cause harm to the incumbent data on your servers.
DDoS attacks:
These attacks can take advantage of the networks' capacity and the infrastructure associated with your website. It can disrupt the traffic to the server and ensure that the network is overwhelmed with a flood of traffic. The response to requests are usually slower, and some may get ignored.
Other common attacks:
Your website may face an SQL injection attack where an SQL is placed on the web form and waits for the application to run it. The hacker would expect to gain access to a restricted section of the website.
Cross-site scripting is also faced by websites where bad JavaScript's get embedded in hyperlinks. If the link is clicked, it may steal sensitive information or take over the user's account.
Why is website security important?
A secure website is essential for your business, and it can ensure the integrity of the data stored in the servers. On the other hand, a data breach can lead to a significant loss of customer trust along with high-profile lawsuits. In addition, if your website is hacked, you can also lose a substantial portion of your revenues as your prospect will move to your competition and never transact with you.
How you can ensure website security?
We will now discuss some of the tips for website security.
Install an SSL certificate:
You must install an SSL certificate that will help to encrypt the communication with the visitor's browser. They use the latest encryption technologies and ensure that the messages cannot be read by anyone other than the desired recipient. It will also ensure that a reputed Certificate Authority authenticates the website. You must install SSL certificate like Comodo SSL certificates, GeoTrust SSL Certificate, RapidSSL Certificates, Thawte SSL Certificates etc. that uses the latest encryption technology and can ensure strong website security at affordable prices.
Keeping the software up to date:
It is essential to ensure that the software is constantly updated to the latest version. Your IT team must continuously update the operating system and the CMS. They may create notifications informing them whenever an update is available. However, if you have a reputed web host as your partner, the onus of keeping the systems updated would be on them.
Adequate password management:
Your IT team must formulate a robust password policy that must be adhered to by all employees. The employees must create a password that would abide by the global password best practices. If there are multiple applications, you can opt for a single-sign-on system or use a password manager to store the password and suggest strong passwords to your employees.
Take proper backups:
As a precautionary measure, your IT team must take regular backup of the website. The backup must be taken at regular intervals and must be stored at a secure location. It will help to restore your site quickly in the event of any mishap. You must ensure that the backup is kept at a different location but should be easily accessible.
Limit access to authorized users only:
Only the user with the requisite authority must have access to the website's back-end. The audit logs must be tracked regularly to prevent any unauthorized access. There must be adequate restrictions in place to control access to the data center. Also, the users must be divided into groups, with restrictive access being provided to the users with the least privilege.
Ensuring the security of domain information:
The WHOIS records may show the contact data and information related to the domain in the public domain. Therefore, it will help to protect the domain from experiencing identity theft. Furthermore, through WHOIS protection, you can prevent your personal information from being given away and avoid any unsolicited email being received by you.
Understanding domain protection
Are you even aware that after you register your domain name, the contact details get saved on a publicly available database? As a guide for domain security, you must consider protecting the domain through a private domain registration.
Through a domain privacy protection service, personal data can be kept hidden from the outside world. However, if you do not choose this service, you may be unwillingly exposing the website's contact details to the outside world.
There can also be incidents where domain hijackers can get hold of the WHOIS database and get your contact information. So again, you must take the benefit of domain privacy protection mechanisms to prevent this from happening.
Benefits of domain privacy protection
We will now discuss some of the Benefits of domain privacy protection.
Prevent spam emails and phone calls:
If your information is available online, there can be a flurry of spam emails and phone calls that will keep you busy all day. Unfortunately, few people continue to scan this public database to get hold of the contact information of the newly registered websites.
Protect the PII:
It is always essential to protect your personal information. Identity hijacking is prevalent these days, and any third party can easily access the contact information and play mischief with your business. It is a considerable risk, and opting for domain privacy can help to mitigate it significantly.
The digital assets may get hacked:
Your website is your mouthpiece to the audience and helps you in your marketing activities. However, unless you have failproof domain privacy policies in place, hackers could use the public information and engage in fake domain transfer.
Selling your personal information:
There is a significant value in personal information. Several people use personal data, including the contact email ids, phone number, etc., and make few quick bucks. Unless you opt for domain privacy, the personal data can be sold off to different entities.
Give information to the competition:
If you are not taking the benefit of domain privacy protection mechanisms, you might be playing into the hands of your competitors. The public information can be used by the competition to gain valuable information on how your business operates.
How can you ensure domain privacy?
When you register the domain, you must also check whether domain privacy is also bundled in the plan.
If you feel that you are bereft of domain privacy, you may contact the hosting services provider or the domain registrar and get this done at the earliest.
Conclusion
Your website is an integral part of your growth strategy. But there are several external risks that your website encounters. The threat from hackers are always there, and you must have robust practices in place to prevent such attacks. You must also subscribe to domain privacy services to prevent your personal information from showing on the internet.