Tudip Technologies Pvt. Ltd. Burgeons by Offering Robust App Solutions: GoodFirms
Posted in by
Tudip
at 10:09
Comments Off

on Tudip Technologies Pvt. Ltd. Burgeons by Offering Robust App Solutions: GoodFirms
Tudip Technologies Pvt. Ltd. Burgeons by Offering Robust App Solutions: GoodFirms
28 September 2021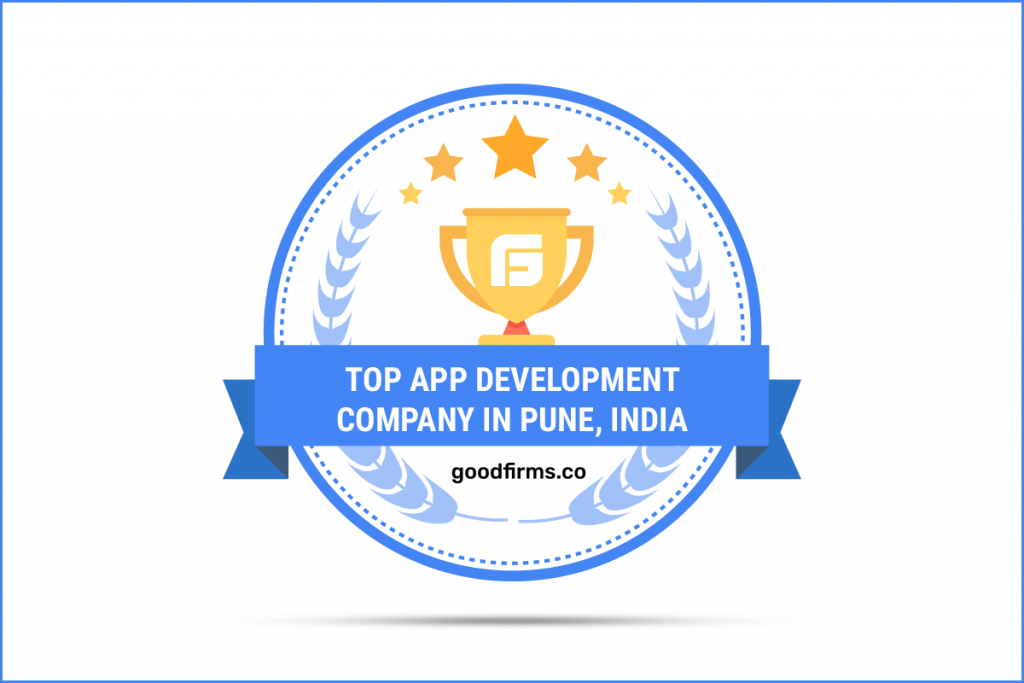 Tudip proves itself in the GoodFirms research standards and taps into the list of Pune's top mobile app development companies.
Overview:
Incorporated in 2010 and based in Pune, India, Tudip Technologies is a value-driven software services corporation delivering excellence in dedicated and business-centric web solutions combined with innovation and expertise to accomplish business goals. The cost-effective, high-quality, scalable, and secure services have served Tudip Technologies to build an abiding relationship with its clients.
The organization differentiates itself from competitors by being a strategic and forward-thinking consulting group that defines complete business solutions, methods, technology, metrics, and revenue.
Moreover, Tudip Technologies prides itself in determining practical solutions that deliver value for the clients. It specializes in Web and Mobile Development, IoT, DevOps, Cloud Infrastructure, and Translation Services.
In addition to this, Tudip Technologies transform businesses to win in the flat world by offering flexible and customized outsourcing solutions that ensure the utmost confidentiality of fine-tuned business data and on-time and on-budget delivery. Its engagement models are adaptable enough to meet the needs of both small and large enterprise clients.
GoodFirms Research Process:
The GoodFirms team conducts a rigorous investigation and analysis to identify and list the top IT firms from diverse countries based on pre-defined vital aspects viz – Quality, Ability, and Reliability.
GoodFirms is a trusted B2B research and ranking firm that publishes its list of top mobile app development and cloud computing companies in Pune & the USA.
Moreover, the researchers also declared that the firm would soon earn a distinguished place in the web development category in India at GoodFirms.
Mobile App Development:
Tudip works with a mission to produce best-in-class apps leveraging best development practices. The experts develop mobile apps known for excellent quality and concentrate upon contending clients with its flexible, customized, and cost-effective outsourcing solutions.
Tudip provides an Internet of Things service that facilitates enterprises to convert their business needs into competitive differentiators by accouching innovative IoT-powered solutions. The app developers help enterprises keep pace with increasing access and with multiple form factors on different platforms by maximizing mobility possibilities for consumer engagement, workplace solutions, and partner engagement.
Thus, understanding that customer experience for any mobile solution is paramount, Tudip provides solutions that deliver compelling and engaging experiences. This approach has earned the company a unique position among the top mobile app development companies in Pune at GoodFirms.
The review given by Brandon Wilkes at GoodFirms reflects the potential of developers rendering quality solutions.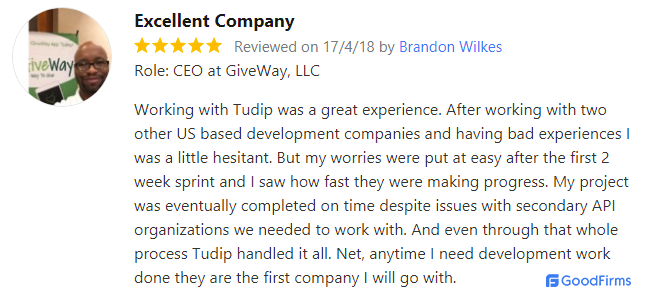 Web Development:
Most people check for the trustworthiness of businesses through their online presence. Tudip Technologies creates an online experience by keeping clients in mind. The team is well-versed with the fact that online presence has become table stakes and is hardly optional anymore which inspires them to gear up.
Delighting the user through enhanced experience is Tudip's team's job and passion. Tudip's forte is web design and development with a focus on offering well-organized, impressive, dynamic user experiences with modern features and responsiveness.
In addition to this, Tudip Technologies have thoroughly updated teams on the ever-changing web development platform– whether it is on browsers, HTML and CSS, programming languages, web dev frameworks, protocols, APIs, or data formats.
Thus, making the web experience rich and unique and aligning the experience to business goals would soon endow Tudip Technologies as a leading website development company in India at GoodFirms.
The review displayed below confirms the quality of websites developed and rendered by Tudip Technologies.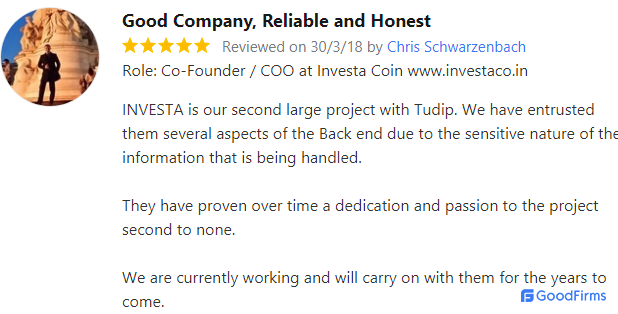 Cloud Development:
Tudip Technologies' priority is embracing a public cloud that enables clients to keep their businesses up-to-date with a more significant feature velocity on the workloads that power their respective companies.
The experts' team reduces CAPEX and OPEX costs by 8% by fostering a managed services model and provides higher customer satisfaction through the effective use of IT systems and methods. They also give built-in analytics to optimize utilization of resources, manage workloads, and capacity planning by boosting Information Technology (IT) resource utilization by 40%.
In addition to this, the professionals use GCP that provides a reliable and highly scalable base for developers to build, test and deploy apps. It gives application, warehouse, and computing services for web solutions, backend, and mobile.
Whether clients' business is fresh in its journey or well on its way to digitization, the experts at Tudip Technologies provide Google Cloud's robust set of solutions and technologies to help outline a path to success. Thus, offering groundbreaking solutions with transformative know-how endows Tudip Technologies to thrive as one of the best cloud computing companies in the USA at GoodFirms.
About GoodFirms
Washington, D.C.-based GoodFirms is a maverick B2B research and reviews firm that aligns its efforts in finding mobile app development, web development, and cloud computing service agencies delivering unparalleled services to its clients. GoodFirms' extensive research process ranks the companies, boosts their online reputation and helps service seekers pick the right technology partner that meets their business needs.
About the Author
Working as a Content Writer at GoodFirms, Anna Stark bridges the gap between service seekers and service providers. Anna's dominant role lingers to form every company's achievement and critical attributes into words. She strongly believes in the charm of words and equips new approaches that work, always with concepts, something new to create, and something unique to enhance the firm's identity.