MY PATH TO TUDIP
How Shital Mahajan made it to Tudip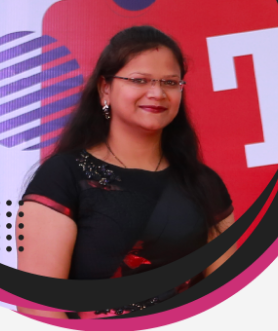 Shital Mahajan
Senior QA Engineer
Published Apr 24, 2021
Can you tell us a bit about yourself?
I am Shital Mahajan and I have been working for the last 6 years in Tudip. Currently I am  working on the Food and IoT domain (Innit project) from the past 2.5 years. It's been a great experience working in the Tudip organization.
Can you talk us through your role at Tudip?
I joined Tudip in Nov 2014 as a fresher candidate and started my journey as an QAE (Quality Assurance Engineer). I started learning new things and implementing them while doing my work. And now, I'm fulfilling my responsibilities as Senior QA (SQAE). Along with day to day activities. I'm indulged in helping peers in case they have any concerns related to project or software testing.
How Did you cope with both pregnancy and work?
Being a mother is a blessing in life. As a working woman my major challenge was to take care of myself along with completing my work on time.
For the first 4 months, I worked normally and completed my work on time, but from the 5th month it became difficult to sit continuously on a chair. So I started walking for 4-5 min after every 2 hours on the same floor. I started bringing multiple boxes (lunch/snacks/fruits/medicines, etc.) for the whole day, and in this way I continued my work without any inconvenience.
How was your journey post motherhood?
I am fortunate and given birth to a baby in the month of April 2017, it was a great experience. Being a mother means being completely and totally overwhelmed by love, joy, responsibility, and selflessness. I rejoined Tudip after 10 months. My family was worried about me as I am gonna join the organization again, but I pulled myself and started going to the office daily for a normal time, I tried to complete my work as early as possible and leave the office on time.
What were the challenges you faced and how did Tudip help you in Managing all?
The difficult challenge:
Sitting almost 8-9 hours at the same place.
Taking proper rest Intervals
Regular checkups and all stuff.
Tudip help:
From the 5th month of pregnancy I shared this news with our CEO Dipti Ma'am, and as we all know she is very helpful in nature. She told me to take rest while working and use the cabin as well. Dipti Ma'am suggested me to perform some small activities like walking during the work. Also she told me to move on the ground floor because stairs are not good to use during pregnancy. She offered me to take a Maternity leave as per my choice. And from 8th month of pregnancy (Feb 2017) I took 6 Months of Maternity leaves (paid).
How does Tudip help you in Managing work and motherhood?
After rejoining Tudip, it was difficult to manage and settle down all things, I started coming to the office at normal time and I met Dipti Ma'am first. She moved me to Internal projects so that I can complete my work early. Also changed my office timing from 9 AM to 6:30 PM.
And I started my office routine as per the new timing and worked on new projects. I followed this routine for the next 6 months and that way I managed my work as well as Motherhood.
I really enjoyed my motherhood journey, I spent time with my lovable baby and it was all achievable because Tudip supported me on every stage like gave me extra maternity leave as well. (4 Months – unpaid)
What Suggestions do you have for aspiring women?
Tudip is always a good place to work, and my suggestion to Women's is to keep a positive attitude, optimism, the ability to regulate emotions and the ability to see failure as a form of helpful feedback. Love yourself, we can achieve anything, work hard, success will definitely come closer.