Our Quality Assurance service keeps the focus on delivering positive business outcomes. Digital businesses need the lights on all the time on their infrastructure, operations and all customer-facing applications and thus Quality assurance of these applications is much more a business need in keeping customers and stakeholders happy and delivering outcomes and not so much about testing software applications. Whether it is regulatory compliance, customer experience transformation or remaining competitive in the market our quality assurance services play a critical role.
Enabling Business Transformation Through Comprehensive Quality Assurance Solutions
Tudip's Assurance Services provide an incomparable suite of services and solutions that empower organizations to provide best-in-class IT application quality and superior client experiences
Focus On Business Outcomes
Business Transformation Assurance addresses business outcomes, and not just application quality, but business process quality.

Business Process Testing

User Acceptance Testing

Package Testing
Enablement of High Quality Digital Technologies
In the digital era, technology is the front runner of all business plans. The best plans are laid to rest without a high quality technology run. We run assurance programs on the entire gamut of digital technologies, and traditional technologies towards smooth business processes.

Mobility Testing

Cloud and Infrastructure Testing

Big Data Testing
API/ Service/ Microservices Testing
Give Assurance, Smartly
We bring in Intelligence and Automation to Quality Assurance, using cognitive thinking and a lifecycle approach to automation.

Quality Insights

Automated Business Process Testing

DevOps/ Agile Testing

BOT Assisted Testing
Enhanced Customer Experience
Our assurance solutions focus on enhancing customer experience, by ensuring better performance, security, usability and accessibility.

Performance Testing

Accessibility Testing

Security Testing
Predictable and Consistent Assurance
Managed Quality Assurance Services enables proactive assurance that identifies the problems before they affect business. This model makes the assurance much more business driven and proactive. It is consistent – hence predictable, flexible and scalable, and thus overall cost effective. It enables heightened transparency.

Flexible Pricing Models

Transparency

Better Reporting
Quality Assurance Services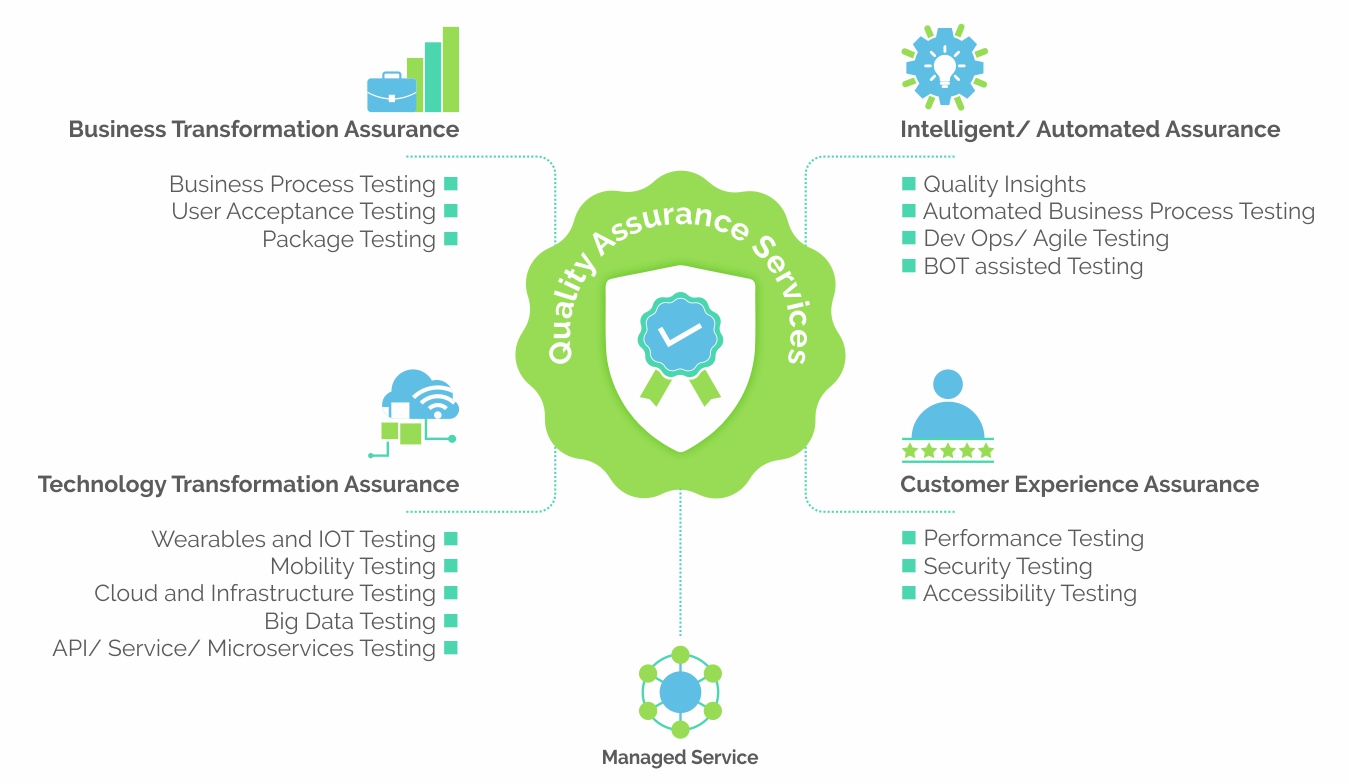 Find out how we can help in Improving Your Software Performance
Karma is the most popular test runner but how do you Install and configure Karma test runner? This article explains Karma configuration and basic settings.
Automation is important and Automation Testing and Selenium pretty much go hand in hand. Here is how you get started with Selenium for simple automation.
JMeter is an effective tool for load testing. Get here a step by step guide for How to do load testing using JMeter and Selenium Webdriver tool.
Performance testing is the process of determining the speed of a software program under a workload. Start your journey in Performance Testing by reading further.