Dipti Agrawal: Truly an encouragement to young entrepreneurs
Posted in Uncategorized by
Tudip
at 12:07
Comments Off

on Dipti Agrawal: Truly an encouragement to young entrepreneurs
Dipti Agrawal: Truly an encouragement to young entrepreneurs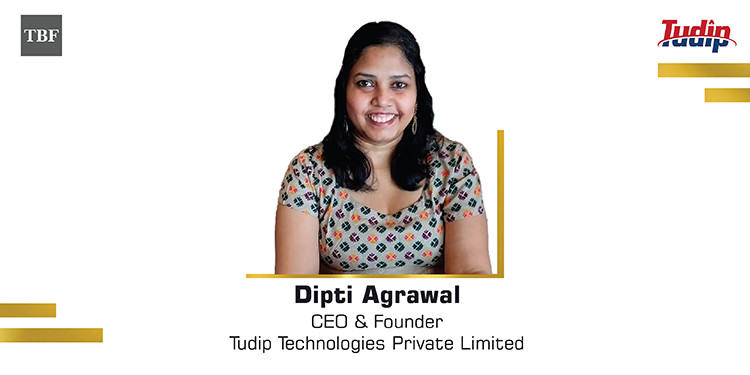 "The Pune-based venture, founded in 2010, is a heavyweight in providing support and services to Billion Dollar clients like Google to shipping Minimum Viable Products promptly to Early Age Startups. The company has a wide range of services from mobile application development to cloud enablement rights to Artificial Intelligence and Internet-of-Things(IoT)."
Since its inception, the company has seen a huge amount of success and appreciation from its clients- earning laurels for itself and the founders on national and global platforms in the process.
Dipti Agrawal, The CEO & Co-Founder of Tudip technologies regarded as 'The true Leader of the People' by her employees has been a role model for many aspirants as her professional journey speaks of success and achievements. The passion to pursue her dreams is an impeccable story in itself.
Formerly, working as a Functional and ERP Consultant at reputed firms for around 4 years, Dipti left her high-paying job and chose her path to being a successful entrepreneur. The incredible exposure to companies of varied sizes gives a unique perspective on the day-to-day operations of start-ups, as they start growing. While, her expertise lies in agile methodology of development and dons multiple hats across domains. Despite the tasking designation she holds, Dipti relishes being part of functional and technical discussions around product development and people management.
Some of the notable achievements include :
Tudip Technologies: Facilitating Seamless Cloud Migration onto the Secure Google Cloud Platform
Business APAC : Tudip Technologies Leveraging Cutting-Edge Technologies To Transform Business
Business Connect: Tudip Technologies: Redefining Standards by Providing Superior Software Services
TopDevelopers.co: Tudip Technologies is one of the leading Mobile Game Developers of March 2020
Silicon India Magazine Tudip Technologies recognized as one of the Best Tech Company to Work for 2020
"As a technological venture Tudip Technologies has been instrumental in the welcome shift in the gender narrative of India's entrepreneurship story and is a leading face of change of conversation from "He vs. She" to a more business-focused one. Meticulously, it has carved a niche for itself, with top-notch service offerings in the technological domain. Right from the choice of the Chemical Engineering course in college, it has been brave in overcoming stereotypical and social barriers. The decision to pursue entrepreneurship was another such solid one, with the subsequent success that has propelled me into the league of top entrepreneurs and influential women. The hard work reflected in the laurels has garnered over the years, from coveted magazines – The Silicon Review, The CEO Magazine, Red Herring to name a few."
Dipti Agrawal, CEO & Co-Founder,
Tudip Technologies Services & Offerings:
Tudip Technologies provides the best products and services to our clients using 3 basic rules of our organization that are integrity, Innovation and serenity. The problem solving approach of the organization is its USP. Their clients go to bed with a problem and wake up with a solution because we guarantee that serenity.
The vision is to be a Global partner and the first choice for our customers by providing leadership in specific domains to help our customers accelerate the value creation process and the mission is to create a niche by offering cutting-edge integrated services across technologies empowered by innovation, best in class process and best of breed technology.
"Serving our clients in the best way is one of the key motivational factors for Tudip Technologies. Clients come to us for solutions expecting us to solve their problems and we solve them really well. This is the motivational tool that keeps us motivated and we deliver our clients products and services with the best solutions." Mentions Dipti Agrawal.
Mentoring & Motivating the Next Gen:
Dipti has been empowering women by providing them avenues for financial independence. Since its inception in 2010, Tudip Technologies has been an Equal Opportunities Employer, and thus, emphasizes diversity in its workforce. This endeavor has productively led to the fact that the organization has 15 women in the top management now including its CEO. This has been a result of focusing on merit above everything. It has been driving the point about gender equality home, by supporting women in management that the other women can look up to and derive motivation from.