Our CEO, Dipti Agrawal, featured in Outlook Business Magazine as a trailblazer business leader and entrepreneur in the Tech Industry
Posted in Uncategorized by
Adyasha Upasana
at 03:06
Comments Off

on Our CEO, Dipti Agrawal, featured in Outlook Business Magazine as a trailblazer business leader and entrepreneur in the Tech Industry
Our CEO, Dipti Agrawal, featured in Outlook Business Magazine as a trailblazer business leader and entrepreneur in the Tech Industry
07 June 2023
Dipti Agrawal is a dynamic business leader and entrepreneur who has made a significant impact in the tech industry. As the CEO and Co-founder of Tudip, Dipti has led the company to new heights of success and established herself as a role model for aspiring entrepreneurs.
Dipti's journey in the tech industry began as an ERP Supply Chain consultant, she quickly rose through the ranks and held several leadership positions before co-founding Tudip Technologies in 2010. Since then, she has been instrumental in driving the company's growth and success.
Under Dipti's leadership, Tudip has become a leading provider of IT services, serving clients across various industries. The company's innovative solutions and customer-centric approach have earned it a reputation for excellence and its clients include some of the biggest names in the industry.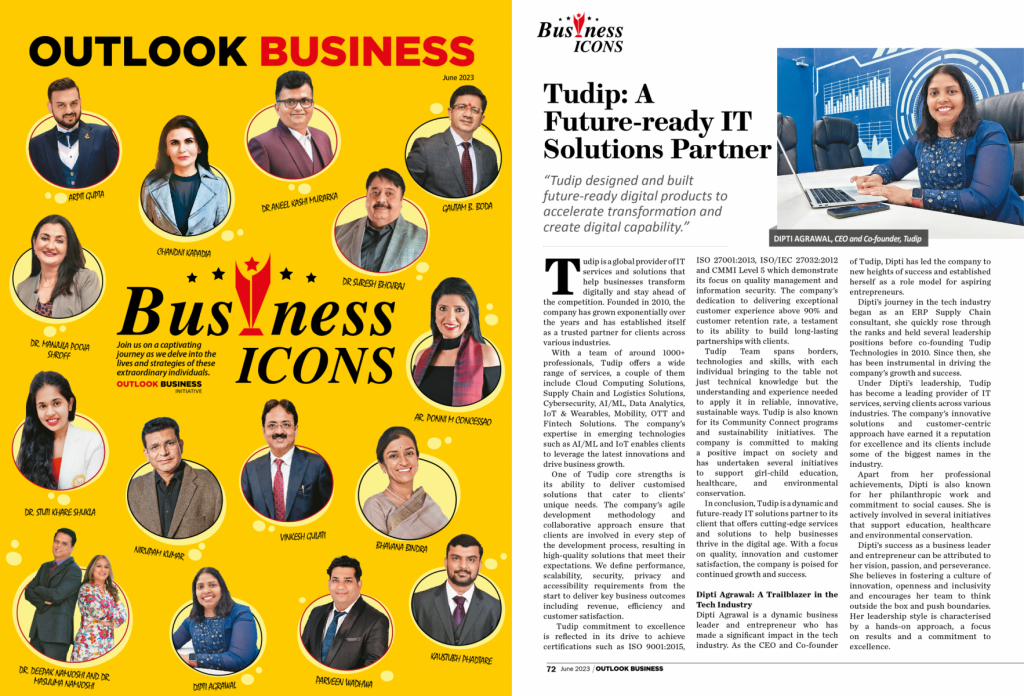 Apart from her professional achievements, Dipti is also known for her philanthropic work and commitment to social causes. She is actively involved in several initiatives that support education, healthcare and environmental conservation.
Dipti's success as a business leader and entrepreneur can be attributed to her vision, passion, and perseverance. She believes in fostering a culture of innovation, openness and inclusivity and encourages her team to think outside the box and push boundaries. Her leadership style is characterised by a hands-on approach, a focus on results and a commitment to excellence.