Tudip Technologies: Pioneering Innovation and Impact
Posted in Uncategorized by
Adyasha Upasana
at 06:08
Comments Off

on Tudip Technologies: Pioneering Innovation and Impact
Tudip Technologies: Pioneering Innovation and Impact
29 July 2023
Tudip Technologies, led by the visionary Dipti Agrawal, is a powerhouse in the IT solutions landscape. With a team of around 1000+ professionals, Tudip offers a wide range of services, a couple of them include Cloud Computing Solutions, Supply Chain and Logistics Solutions, Cybersecurity, AI/ML, Data Analytics, IoT & Wearables, Mobility, OTT and Fintech Solutions. The company's expertise in emerging technologies such as AI/ML and IoT enables clients to leverage the latest innovations and drive business growth.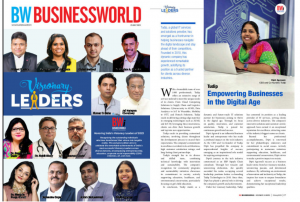 What sets Tudip apart is its client-centric approach, delivering customized solutions that exceed expectations. Dipti Agrawal's leadership has propelled Tudip to a position of excellence, solidifying its reputation for quality, innovation, and customer satisfaction.
Beyond business success, Tudip is committed to social causes, actively supporting education, healthcare, and environmental conservation. Dipti's holistic approach and visionary mindset make Tudip Technologies a dynamic and future-ready partner for businesses, driving growth and fostering positive change.