7 Google Workspace Practices to good team Collaboration
Posted in by
Tudip
at 07:02
Comments Off

on 7 Google Workspace Practices to good team Collaboration
7 Google Workspace Practices to good team Collaboration
28 February 2022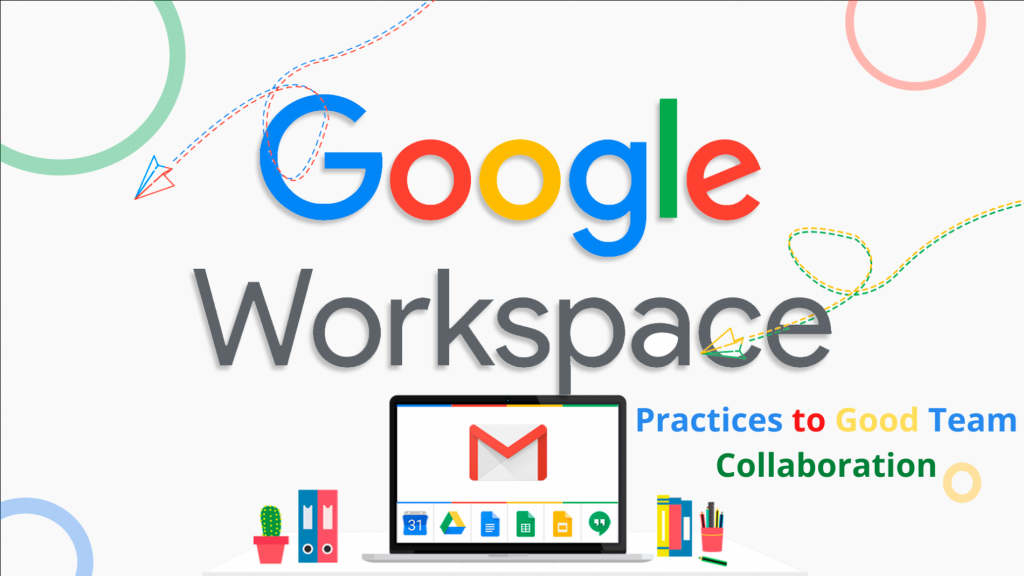 To any succeeding business, Team collaboration is the keystone. Workspaces with better collaboration experiences improve performance, engage workforce, and increase level of trust. Today, Cloud computing solutions such as Google Workspace (G suite) are ruling half of the corporate world. Further, the G Suite has many features like a calendar for meeting schedules, Gmail for sending emails, and so on. However, when we talk about team communication, companies still choose an old method.
So, in this article, you will explore Google Workspace's best practices for team collaboration. It will allow you to make your everyday task agile by opting for simple methods.
7 Best Practices For Team Collaboration
Build a virtual meeting room whenever you need

You don't have to be worried about notification of important meetings by knocking on your door or the unavailability of booking slots for meeting rooms. The best part of Google Workspace's specifications is Hangouts Meet. Moreover, an incredible feature of creating a virtual meeting room helps to start after you schedule a video call or meeting by your device (mobile, computer, or laptop). It allows users to join anytime and anywhere.

Here all employees can share their different ideas and suggest their brainstorming ways of working. The face-to-face interaction encourages team-building events.

Additionally, there are some key features that make team collaboration easier. It includes; Sending live chat messages, adding people to a Calendar event, mute microphone of a guest, recording a meeting, removing guests while a video meeting is going on, and Screen presentation.

A video conferencing app Google Meet supports approx 250 meeting participants and more than 100,000 viewers for live stream.

Common team inbox 

Google groups allow users to create a shared inbox. Here you can add all your team members to manage the task. It will help to raise a zeal of team collaboration in your team.

Further, let's have a look over the steps to create a shared inbox:

First, create a group
Add members to it
It allows incoming emails to reach the accounts of all members added to the group.

This collaborative inbox helps to add shared labels on emails, make the email assignment process easier, and streamline the search of important emails. Moreover, for a seamless working experience, the administrators of Google Workspace need to permit access to team members by the admin console option.

For example, you have to provide moderate content permission for a task like marking a conversation duplicate or mark it for no action required. A shared team inbox feature will be an important practice for team collaboration.

Google drive

Google Drive allows users to share, store and access resources from any corner of the globe. It offers a secured storage solution for all important folders or other data. It includes; Google Slide, Google Docs, and Google Sheets; they are already G suite's elements.

Here the best part is you will need a real-time team collaboration with ease. Your team members get access to view or add more files on shared files. It all depends on the permission you are giving to each member.

One more benefit is that you directly ask the team to open files on their system when you start meeting. Furthermore, it saves your time and allows the team to discuss the mentioned points on their doc sheet.

However, if your team is working remotely or divided over the world, they can collaborate to make drafts. Even you can share a large file through Google drive. Furthermore, the owner can use the collaborative tab to add or remove a user's access to a particular document.

Gmail and Google calendar

Do you know team members can add FB (Facebook) events on Google Calendar? If we talk about Gmail, you can limit emails for a particular time slot, create Automatic Events, and many other exciting features on Gmail.

Now have a look over team collaboration Gmail and Calendar features.

Spam emails filter

Check out how you can separate important emails or create rules for filtering spam in Gmail.

Go to your Gmail.
Click on Down Arrow in the top search box.
Now, enter the word you need to search.
Go to the search window at the bottom and click on 'Create filter.'
Select what you want the filter to do.
Then, click on the Create filter tab.

Set auto-reminders in Calendar

You will never go wrong with the dates because Auto reminders in the Calendar work as a life savior.

First, go to Setting menus gear, click on 'Settings.'
Now, go to 'Settings for my calendars' and click Calendar.
Go down for the 'Event notifications' option.
Set time for notification of an event (select notifying time like days, weeks, hours, or minutes before an event )
Now, choose if you want to get notified by email or a notification
At last, click on 'Add notification.'

Schedule Hangouts Meetings

First Sign-in Calendar
Now, create any Event and go to the 'More options' tab
Go to 'Add conferencing' and click on 'Hangouts.'
Once you complete the details, then save them.
Google Form
One of the topmost tools of Google Workspaceis Google Forms. It improves collaboration and communication within the team. Moreover, Google Form is best for creating surveys, and team building quizzes, team RSVP forms, tailored job applications, time off requests, order forms, and many more.
Google Keep
It is a note-taking service offered by Google. Your team can leverage this service by keeping a record for client service feedback, maintaining handy FAQs, and making a to-do list.
Moreover, it can be used to write down regular customer feedback about products or services. The review could fix an error, make a fresh product design, develop new product features, and other customer feedback in a place. Later you can share notes with your team or another department. It leads to better team collaboration.
Additionally, here you can save FAQs of your clients for providing excellent customer support. It will help your team to know what are relevant Help articles for customers' problems.
Create Groups 
What is better than using a single email address for sharing updates, providing resources, announcements, status updates, and much more? Yes, it is possible to create a Groups feature.
Furthermore, the best part is that you can give access permissions to the whole group at once. For example, if someone leaves your team but he/she is added to the group. In this case, you simply remove the user so that they will not be able to access group content.
Steps to create a group:
Click on 'Create group,' then enter all your information.
Go to the 'Create' tab available at the top of the page.
You can add team members to your group.
Now, choose the content you need to share, like documents, sites, calendars, etc.
Final Words 
In conclusion, whether you are an entrepreneur, small business, or nonprofit organization, Google workspace provides team collaboration tools for everyone. Also, it has the ability to manage a team and build communication between teams by incredible apps.
Moreover, once a business starts growing, you need to invest in many other fields too. So, here the best option is choosing Singapore web hosting services for your business. They work dedicatedly and help an online store or business to grow.
If you are looking for more ideas to improve team collaboration, then write down your insights.