Google Cloud VMware Engine
Posted in by
Tudip
at 08:03
Comments Off

on Google Cloud VMware Engine
Google Cloud VMware Engine
09 March 2022
Google Cloud VMware Engine provides full operational consistency with existing on-premises environments, where it manages the applications workloads, and infrastructure. You can easily move your VMware-based applications to Google Cloud without changing any of your apps, tools, or processes. It is a fully managed service that offers you to run the VMware platform in Google Cloud. Infrastructure and other networking services are managed by Google so users can consume the VMware platform easily and securely.
Architecture of VMware Engine: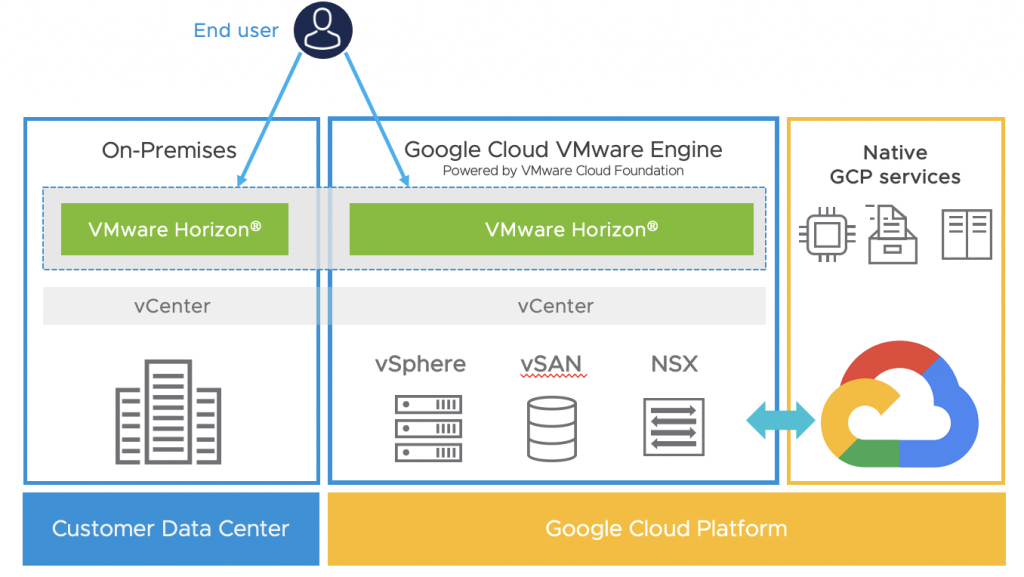 Features available in GCP VMware Engine:
On-demand self-service provisioning of VMware private clouds:
Here users can deploy, expand or shrink VMware clouds in some minutes. It provides on-demand provisioning, pay-as you-grow, and capacity optimization. It creates an environment that runs natively on Google Cloud. It contains vSphere, vCenter, vSAN, NSX-T, HCX, and other corresponding tools. It is fully compatible with existing VMware tools, and skills training.
Integrated connectivity to Google Cloud services:
It provides full access to GCP services in one place Like: Big Query, Google Cloud's operations suite, Cloud Storage, Anthos and Cloud AI. This facility enables teams to manage workloads without any issues with the existing policies, such as those related to networking, security, data protection, and auditing.
Fast networking and high availability:
VMware engine is highly scalable on Google Cloud and it is fully redundant. It's availability is 99.99% with 100 Gbps networking. It uses VPC networking that gives you 3-layer security access among VMware environments and other cloud services where billing, identity and access control are integrated with the services.
Simplified operations:
VMware Engine is used to reduce the operational issues so you can focus more on your business. This provides high-bandwidth connections that allow you quickly upload and download data to recover from incidents. Google Cloud takes care of life cycle management of the VMware software stack and manages all related infrastructure and upgrades that are required on a daily basis.
Benefits available in GCP VMware Engine:
VMware Engine provides several benefits to your overall productivity:
Infrastructure monitoring, troubleshooting, and support.
Operational continuity and policy compatibility
Convenient monitoring and Hybrid platform
Virtual desktop infrastructure
Infrastructure Agility and Security
Compliance tools and certifications
Disaster recovery backups
VMware-based applications
Audit practices
Lower cost
VMware Pricing:
VMware price is based on consumption and commitment terms. This service provides many pricing options like one and three- year service terms. VM ware engine is available in 12 regions. To check the current price in your region visit this  pricing calculator. Here you can download and view prices from pricing table in the cloud console