Introduction to Bare Metal Solution
Posted in by
Tudip
at 04:08
Comments Off

on Introduction to Bare Metal Solution
Introduction to Bare Metal Solution
26 August 2020
Companies are migrating towards the cloud for increasing the efficiency, securing the application, improving the cash flow and for many other benefits.
When talking about the migration to the cloud, sometimes, if the component is light weighted application or light weighted workload, it can be shifted easily. But, when it comes to shifting the specialized workload, it is difficult to migrate to a cloud environment. This is because these specialized workloads require certified hardware and complicated licensing and support agreements.
Here comes Google Cloud's Bare Metal Solution for your help.  Bare Metal Solution provides a path to modernize your application infrastructure landscape, with maintaining the existing architecture. In other words, it provides hardware to run specialized workloads with low latency on Google Cloud.
This Bare Metal Solution uses OEM hardware that is certified to run multiple enterprise applications. This OEM hardware can be migrated to this infrastructure with little or no change.
This solution comes with some automation tools to help organizations to onboard  their applications, huge relational databases, configuring the required operating systems and setting up backups and monitoring services.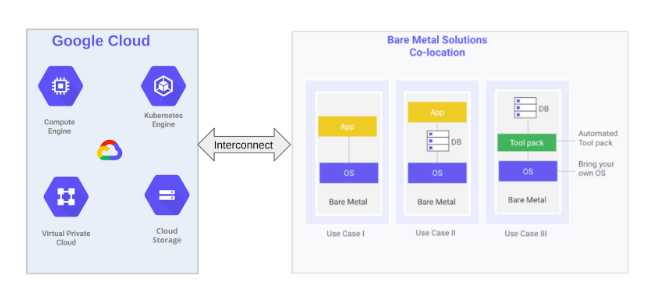 Features of Bare Metal Solutions:
Managed hardware infrastructure: It provides you managed end-to-end infrastructures such as compute, storage and networking, as well as fully managed and monitored and logging features.
Flexibility and agility: As Google Cloud platform takes care of the specialized workload, the organization can focus on modernization and digital transformation.
Integrated Low latency access: Because of the low latency network between your specialized workload and Google Cloud Platform provides a high quality of service.
Application modernization: Modernization and migration of your application to cloud helps in managing the risk more effectively.
Conclusion:
Accumulating this discussion in one line – Bare Metal Solution lets the organization off-load provisioning, managing and monitoring of the infrastructure to Google, so that they can focus on your own data center modernization.
For more such blogs, Stay Connected!