Introduction to Google Cloud VMware Engine
Posted in by
Tudip
at 10:12
Comments Off

on Introduction to Google Cloud VMware Engine
Introduction to Google Cloud VMware Engine
16 December 2020
Google Cloud VMware Engine (GCVE) is a service that migrates and runs the VMware workloads without changing the structure of the existing application.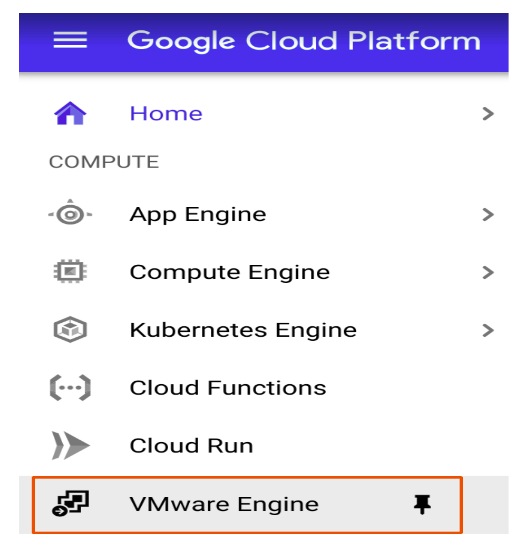 Features
Differentiated VMware experience:
VMware Engine is made on Google Cloud's highly scalable infrastructure which has fully dedicated networking of 100Gbps. It provides 99.99% availability to meet the requirements of the most demanding enterprise workloads.
Integrated Google Cloud experience:
A native VPC networking gives the private third layer access between other Google Cloud services and VMware environments. It allows us to use standard access mechanisms like interconnect, Cloud VPN, etc. In addition to this, identity, billing, and access control are integrated to merge the experience with other GCP services.
Ecosystem compatibility of VMware:
The VMware Engine allows acquiring administrative rights for installing and maintaining the continuity with third-party tools for monitoring, disaster recovery and backup.
On-demand self-service provisioning of VMware private clouds:
Deploying, expanding as well as shrinking the VMware private clouds can be done in minutes. Need to pay for what we use and benefit from flexible consumption options.
Benefits
It can run the workloads in the native VMware environment like: vCenter, vSphere, vSAN, HCX and NSX-T
We need to focus on our applications only without worrying about the management of VMware software stack as it is fully integrated.
We can connect to the native Google Cloud services (like BigQuery and Cloud AI) to derive new insights from existing data.
Use-cases
Data Center extension/retirement:
We can scale the capacity of the data center in the cloud on-demand for on-premises environments. In case, if we have just refreshed the current hardware, another use case would be the extension of on-premises vSphere cloud to Google Cloud.
Disaster Recovery & Data Protection:
We can use existing third-party tools from Zerto/Veeam to replace or complement the existing disaster recovery location and leverage Cloud Storage services. We can also use the GCVE private cloud as a disaster recovery site for on-premise workloads. Disaster recovery solution would be based on VMware Site Recovery Manager which can also be used together with the HCX.
Cloud migrations/consolidation:
If we want to start with a lift-n-shift approach to migrate particular applications to the cloud, the GCVE is very useful. If we want to refresh the current infrastructure and want to relocate/migrate the workloads in an easy and secure way, a perfect scenario would be the consolidation of the different vSphere-based cloud.