Why Do Modern Businesses Prefer Cross-Platform Mobile App Development?
Posted in by
Tudip
at 11:04
Comments Off

on Why Do Modern Businesses Prefer Cross-Platform Mobile App Development?
Why Do Modern Businesses Prefer Cross-Platform Mobile App Development?
06 April 2021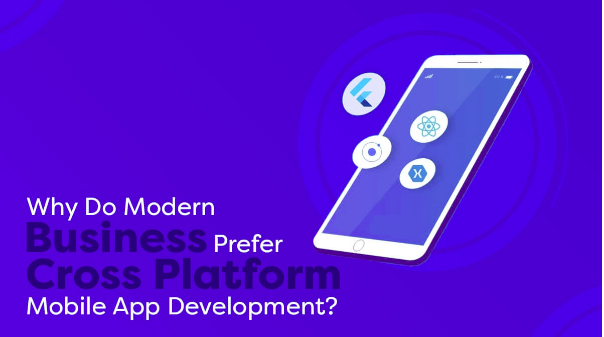 Well, today, the computerized revolution has been growing rapidly. It keeps on defining the perspectives of the market, social circles, and economics. On the other hand, innovative high-tech and entertaining mobile apps are quickly transforming human life and their activities.
Most importantly, flexibility has become an essential component of every app and digital device. Many companies are implementing the mobile way so that their competitors leave behind. Nowadays, every organization is trying to tie to the larger audience by forming unique apps that work without any bugs.
Let's Have A Close Look At The Power Of Cross-Platform Mobile App
Usually, forming a cross-platform app allows the experts to create an app that applies programming language for coding. This exaggerates the effectiveness as well as stimulates the creation of an app in order to get a high-quality app that works on any platform.
Some Advantages To Creating A Cross-Platform Mobile App
One can have multiple uses of code:
Cross-platform mobile application eases the setting of codes and helps in removing the same actions. Instead of dealing with a new code, the developers apply the codes for distinct platforms.
While creating a cross-platform mobile app is cost-effective as it carries out the tasks on numerous platforms and applies unique databases.
Acceleration of time always remains on top. The Cross-platform app-only applies one database and allows the organization to check the creation of the mobile app.
Simple Setup: 
It's a major part of the core that provides a set of modules as well as extensions. It also can be mixed with other instruments to advance the app's performance. The developer's scan deploys use codes, and the apps get activated on every platform.
One of the basic principles and essential thoughts for apps and software is User experience. With the help of one code base, you can apply it for creating a cross-platform app. Also, it helps to keep stability in the overall look.
Formation Of An Attractive App:
It should be remembered that the view of the app should be entertaining to the clients. However, if they notice the same design on distinct platforms, then the interconnections will be easily reached.
Keep the UI: 
One of the best approaches to attract the audience is to make use of varied platforms that keeps corresponding with the UI. It also makes the support of the platform easier.
Apply Stable Modules:
By using stable modules, the developers can save both time and cost. However, this flexibility is a specific feature that gets used for the cross-platform mobile app.
Trial and Update:
It is essential to be sure that the cross-platform may get activated on all platforms. It gives you the best approach to test, analyze and update the app to provide progress and productivity. The innovative mobile apps contain a set of benefits, and here have been listed some of them.
Profitable: Numerous companies contain profitable cross-platform app for their effectiveness. The development of such kinds of apps requires one team of developers and a set of technologies.
Code Processing: One can control the codes and the types of apps that can eliminate repetitive tasks. Only one necessary step can use the same code on all platforms. In short, there are a set of advantages of cross-platform mobile apps development and is useful for most businesses.
Challenges of Cross-Platform Development
Here has been explained some challenges for it:
Impact of efficiency: 
It has been observed that the programs developed via Cross-platform might be less efficient. It generally occurs due to the lack of hardware resources.
Over-using of codes:
When developing the cross-platform application, you should ensure that it is more generalized. Also, it has to use the common windows on different OS.
High-Battery consumption:
These applications mainly use advanced features and can use more hardware as well as the system resources of the phone. This, in turn, led to massive battery consumption. Cross-platform applications use more battery consumption.
When it comes to developing mobile applications either for companies, businesses, or for clients, it must fit the market trends and requirements. Also, the businesses are getting smarter day by day when it comes up with their preferences for a better reach and lead generation.
It has been estimated that in the next 5 years, the global mobile application market is going to increase up to 30%, and the revenue will get enhanced up to $126 billion by the year 2022. If we talk about mobile app development for business, then cross-platform mobile apps have become one of the trendiest options for businesses.
Some more benefits of using Cross-platform Mobile application for business
It is easy to maintain and deploy:
The Cross-platform mobile apps help in minimizing the efforts of putting extra efforts while developing. It can be easily maintained across multiple platforms like iOS, Android, and much more.
Whenever there need any changes to be made, then the developer can promptly organize them within a few minutes without accessing any platform. Besides, if there is any bug that has been found in the database can be easily fixed on a single platform to remove it from everywhere.
One code for all:
Another major benefit of cross-platform mobile apps is- they can reduce the daunting tasks of putting the same codes on each platform, and every platform is merged with the same code.
This helps the developers to focus on the design and responsiveness of a business. The one code for all techniques has now taken away the boredom of keeping an eye on every platform effectively.
Less Expensive:
Whenever it comes to take the business to the next level, then most business owners want to utilize all digital platforms so that they can reach the maximum number of their target audiences.
Cross-platform mobile apps cost lesser rather than native mobile apps. In Cross-platform mobile apps, the coding is easier and quicker for the developers. And the cost saved by choosing a cross-platform mobile app can be utilized for marketing implantations.
Affluence of development:
With the help of fast coding and easily maintained platforms, cross-platform mobile applications have come a long way due to the ease of creating native apps.
Obviously, it's a win-win situation for both the development team and the businesses. Today, most businesses want faster results in less time, whereas the developers only want to focus on the essential things for a better user experience.
Numerous tools:
When designing a business app, there is a need to remember that it should be user-friendly. And most of the developers look for this thing. Also, this is what a Cross-platform comes with.
Various development tools are easily available to make the process with a uniform design and better user interface elements. Thus, it directly benefits the companies that are investing in developing app development services.
Easily Upgradable: 
As we have mentioned above that distinct tools are available to enhance the user experience of cross-platform mobile apps. It also helps in quick updates, and among the most important factor, it shows the performance and usability of an application.
Besides it, the codes get converted with such tools in a hassle-free manner, and the application automatically gets updated via the internet. Thus, it enables the users to have the latest version of their apps with a faster user experience.
Easy integration with cloud:
Cross-Platform mobile apps are completely compatible, and one can take advantage of various plugins that are integrated with the cloud settings. In other words, we can say that the single source code is coordinated with numerous plugins and extensions. Hence it helps in enhancing the app's scalability and functionality.
Provides faster time to market:
As it has been clearly understood, the concept of building cross-platform app development. It allows the app developers to minimize Time to Market with quick deployment. Else, if you need to transform or customize the app, then it is easy for the developers to do minor changes in one single code. This helps you to deliver the products more easily.
Easy Maintenance:
Since the mobile app developers just need to develop single source code, maintaining, passing, and update packages and make changes. However, once both the update and changes have been made, then it can be synced with all the platforms and devices in an instant-saving time, money, and effort
Quicker Development time:
It helps you to cut down on the development efforts up to 50-70% with the creation of a single codebase for about multiple platforms. Your business can now attain greater heights through this.
The Bottom line
As we all are familiar that there is highly disruptive mobile app development in businesses, and no one wants to take a risk by missing their online presence in the platforms like the Google Play Store as well as the Apple app store.
Sometimes it happens that budgeting can become an issue if businesses go for native apps. And that is why Cross-platform app development has been introduced. Today, it has emerged as the unrivaled choice for businesses whose aim is to have a presence on Android as well as on iOS.
Author Bio: Jignesh Vaghasiya is the CEO at Universal Stream Solution. Universal Stream Solution is a mobile app development company in Atlanta (http://www.universalstreamsolution.com/). That helps startups to enterprise companies in mobile & web technology.
Author mail-id: jigs@universalstreamsolution.com