QwikLABs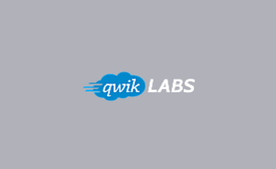 Challenge
Why should one consider a qwikLABS Advantage subscription?
Progress
A qwikLAB is a live hands-on learning environment along with a set of instructions to walk you through a real-world scenario based use-case. In a Lab you will have access to the actual environment you want to learn about, not a simulation or demo environment. Labs may be accessed through a standard browser anywhere there is Internet access. Many Labs require Lab Credits or an Access key to run (see FAQs for details), but we also have a variety of introductory free Labs as well.
Result
qwikLAB is an AWS authorized technology partner, an authorized implementer for the secure AWS GovCloud, and an accredited AWS supplier. qwikLABS® users are growing rapidly resulting in more innovation, more features and more efficiency.
Quests make it easy for a user to track their progress and decide what Labs will be the best aligned to their goal and skill level. They take the guess work out of learning a new skill allowing user to focus on what's really important, learning something new! Finishing a Quest also helps you earn badges, which is a great way to show off your new skills.