How to create a user in Active Directory?
Posted in by
Tudip
at 03:08
Comments Off

on How to create a user in Active Directory?
How to create a user in Active Directory?
27 August 2020
Active Directory is Microsoft software which is used to organize the company's users, computers within a network. It allows network administrators to create and manage domains, users, and objects. It is used to provide authentication/authorization to users, computers, and resources. For example, an admin can create a user, groups and provides them specific access privileges to certain directories on the server. Active Directory helps you organize the company's complete hierarchy from which computers belong on which network, to what your profile picture looks like.
It is centralized storage for users, departments that make a backup and restore. It is more efficient because of the centralized management of services. Users in AD can have the same environmental settings immaterial of which computer or location they are logged on from. It is a secure, easy, efficient, scalable, flexible, effective, cost-effective management and control mechanism to control all the objects, resources and information in an organization/network.
It can be used for any organization that has a network setup or operates on multiple locations. Also, it is used to manage organizations where the number of users, computers or resources will keep changing.
Advantages of Active Directory
Centralized resources and security administration. Single logon for access to global resources.
It contains information about users, computers, resources like printers, shared files/folders in an organization's network.
It is a software to store information and provides access and permissions based on that information.
It arranges all the network's users, computers and other objects into Logical, Hierarchical groupings
How to create a user in Active Directory?
Once you install the Active Directory, open the Active Directory Administrative Center (ADAC). It allows you to manage users, groups, computers, and more.
Once you open the ADAC, click on the example (local) entry. Here you will get the entry for the domain that your account can manage. Then scroll down and double click on the Users entry to see the list of users and groups that currently exist.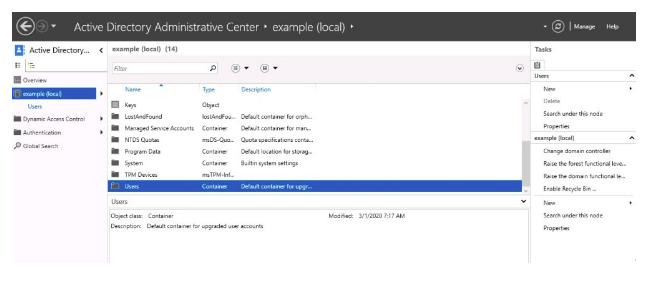 Now we will create a new user. Once you click on Users, you will get a list of tasks on the right. Under the Users section, there's a New menu entry, which opens a submenu to select what's the type of entity that you want to create. In this case, we are creating a new user, so click on User.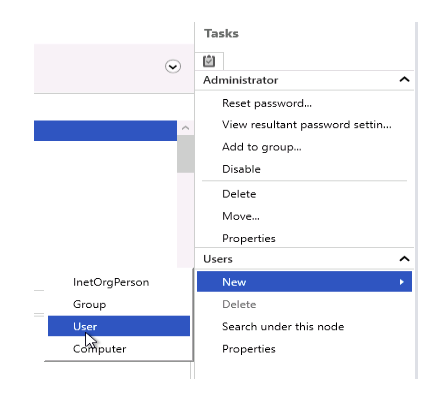 Now, you will get a new window. There are a lot of fields available in this window but you have to fill a couple of fields related to the new user and leave the rest of the fields empty.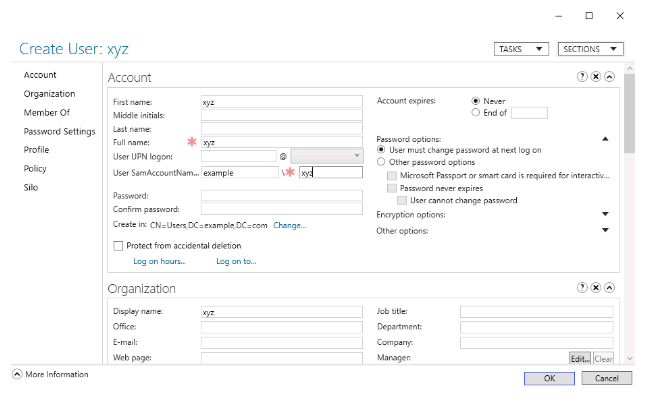 After filling the necessary details, click 'OK'. This will create a new user but if you click on the newly created user, you will see that the user is Disabled. If you right-click over it and try to enable it, you will get an error message that "Failed to enable the account". The system will only enable an account if you set a strong password. You can set a password using the Reset password menu option. Once you've set a password, you can retry enabling the account.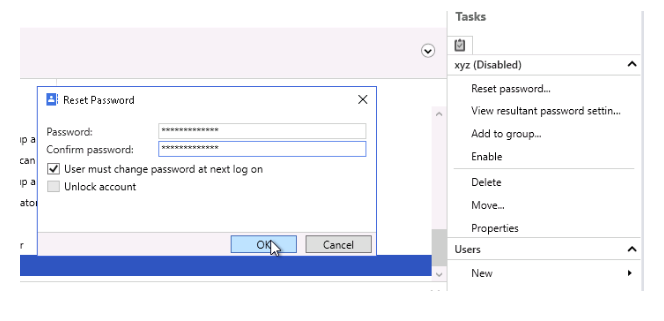 In the same way, you can create a new group and add users to the group.