Bug Tracking in EasyQA Test Management Tool
Posted in by
Tudip
at 07:06
Comments Off

on Bug Tracking in EasyQA Test Management Tool
Bug Tracking in EasyQA Test Management Tool
Introduction of EasyQA Test Management Tool
Bug tracking helps our software team to catch, record and manage each issue in our software product. Bug tracking process is divided into multiple stages starting with finding the bug then reporting, fixing the bug and finally testing to make sure it is fixed. But why we need bug tracking tool? So answer to this question is very simple we want to deliver bug free High-Quality Software Product and to fulfill this we need bug tracking tool.
There are multiple bug tracking tools and EasyQA is one of them which helps to keep track of the reported issue.
EasyQA Test Management Tool contains all the necessary tools for QA testing process, from writing test plans and test cases to the test execution and sending reports. In EasyQA you can write test cases and structure them with few useful parameters and extremely flexible test run process with an opportunity to immediately create issue report and a customized bug tracker – a basic agile board containing a couple of sections, statuses, and parameters.
But why EasyQA bug tracker?
Ease to use: Tracking bug in EasyQA is very easy and software teams will not have any difficulty to handle it.
Fast Speed
Supports a large number of projects.
Easy to import and export data from and to the system.
Very easy to integrate with the other test management tools (Jira, TestRail, Redmine, etc.) and CVS (GitHub, GitLab, etc.)
Supports Multi-language so you can reach a larger audience.
Steps for How to write test cases with EasyQA
Create New Card: 
Bug tracking starts with the creation of a new issue but before creating an issue you need to create organization and project first, and after that issue can be created. Create a new issue by adding issue title, issue type, priority and give a description of the issue. It is not mandatory to assign during the creation of issue, you can assign it later but attach files (video, image, etc.) as proof of your discovery.
If you select the test object during the creation of issue then it will help to get an exact graph report but you can also select the test object later. You could record issue by clicking on 'Add new issue' button if tase case is failed.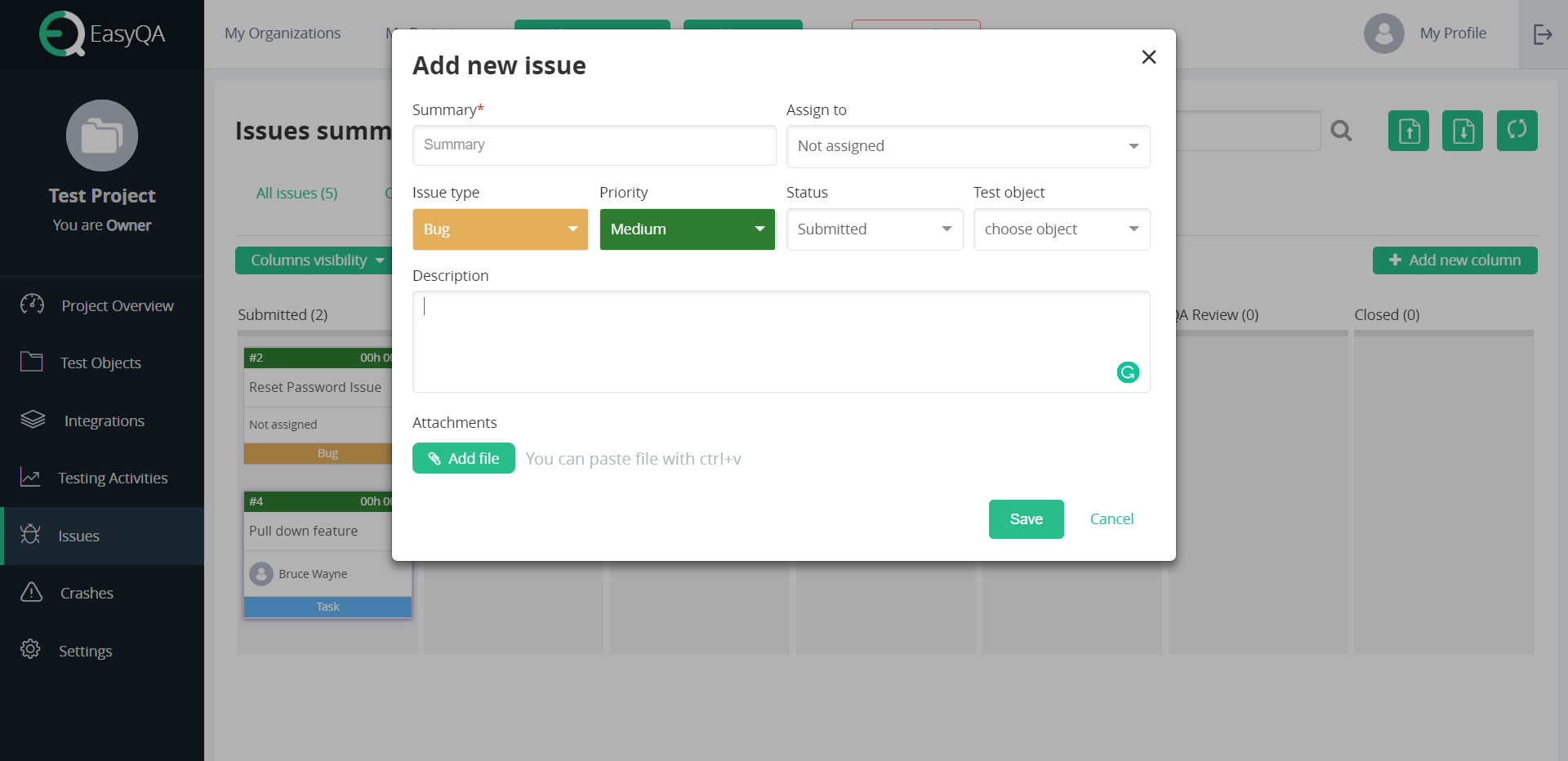 Agile Board:
EasyQA provides you agile board and this board, you could without much of a stretch distinguish the status of each issue. Each issue is being represented by a card and you can edit, delete and view each card. You can drag and drop the card from one column to another to change their status, search the issue through name and also sort the issue.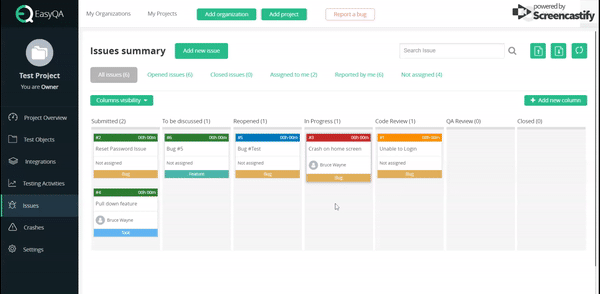 Through this agile board, you can keep track of each issue. It also allows us to create new columns, rearrange the created column depending on your needs, and column can be made hidden through column invisibility option, also it's very easy to edit and delete the newly created column. You can track invested hours, view the history of changes in the card, and add a description of the work you have done. Through the agile board, it is very easy to manage issues.
Import and Export Issue:
Save your time with EasyQA import and export feature. On the off chance that you utilized some CSV document for detailing bugs, you can import them in EasyQA and also export all the card which is available in the Issues page and after exporting CSV, a file will be received containing all the cards.
Integrate EasyQA with the tools you use
EasyQA makes the test management easy by integrating with tools you're as of now utilizing to help your constant testing endeavors. It can be easily integrated with test management tools like JIRA, Redmine, Trello etc. It starts with selecting the integration plugin and then synchronizing the issue with the selected plugin.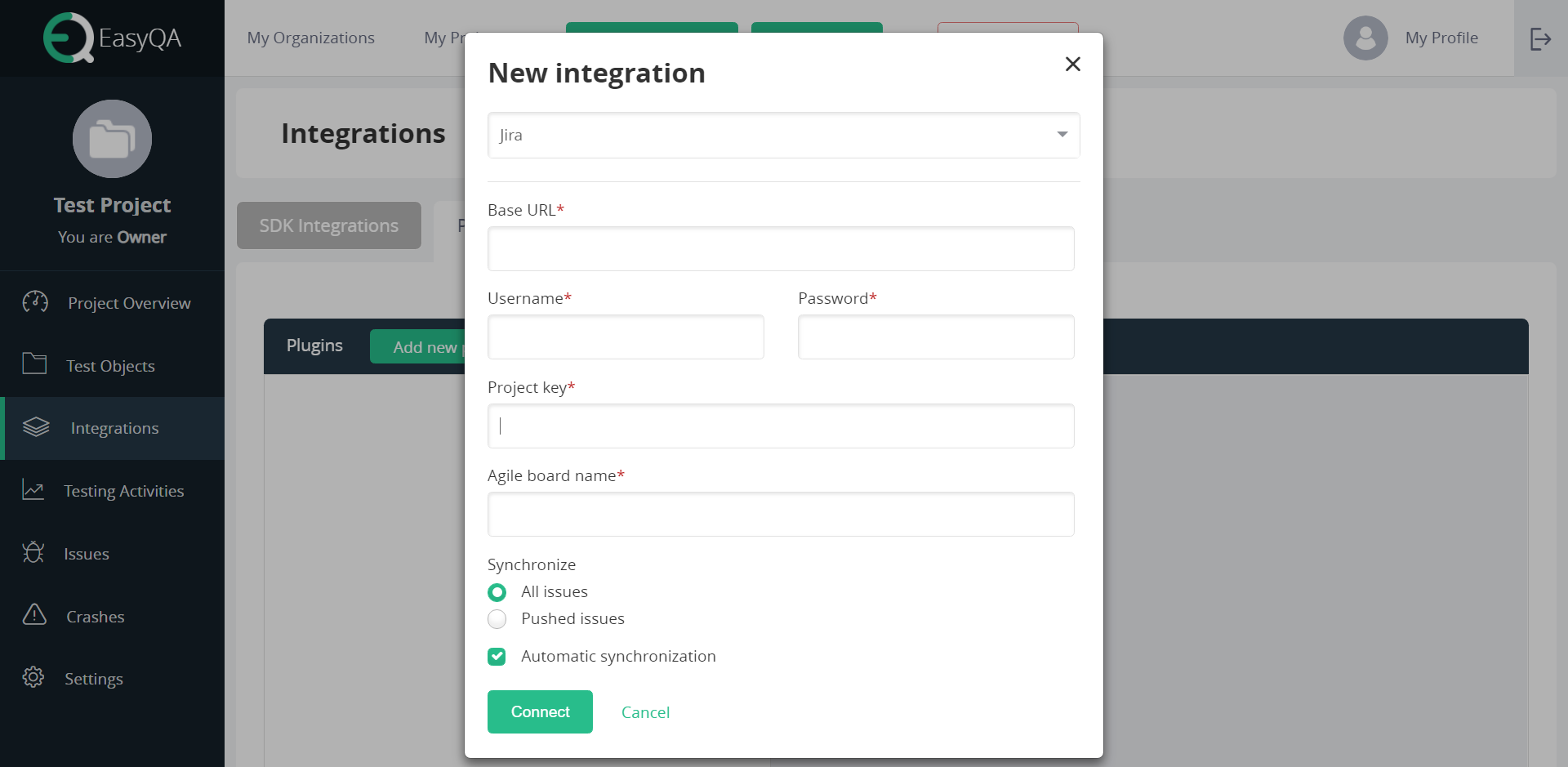 This is all about Bug tracking in EasyQA Test Management Tool.