Introduction to Airtable
Posted in by
Tudip
at 01:11
Comments Off

on Introduction to Airtable
Introduction to Airtable
09 November 2021
Airtable is a flexible and friendly way for us to collaborate on tasks, projects, ideas and more. It's like a spreadsheet, but much smarter. Airtable is a hybrid of spreadsheet and database. We can create our own database to store all our data in the form of spreadsheets.
Airtable bases give us the power of a database with all the familiarity of a spreadsheet. We can customize how we can present our information, and reflect our team's processes, goals, and roles with views using Airtable. We can use Airtable forms to speed up data collection. We can organize our info with tables, records, and fields.
This is how Airtable looks: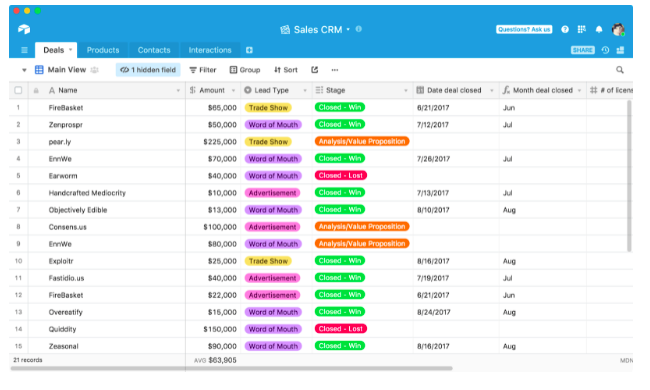 Benefits of using Airtable
We can arrange our data in the form of tables, records, and fields which gives our base the structure to save our data.
Tables

Organize the information in our base.
They contain items of the same type, like people, ideas, or projects.

Records

Records are individual items in your table.
They can represent tasks, or whatever is most important to our team

Fields

Fields helps us to track the info that's important for each record like date and priority.
Airtable is basically a smart way to store and organize our data which saves our time!