Introduction to Anthos and its features
Posted in by
Tudip
at 08:04
Comments Off

on Introduction to Anthos and its features
Introduction to Anthos and its features
What is Anthos?
Anthos is an open Google cloud platform that lets you run your application simply anywhere; simply, flexibly and in a secured way. Basically it is a hybrid function generally available both on Google cloud platform(GCP) with Google Kubernetes Engine(GKE). Also, it gives one the freedom to deploy, run and manage your applications on the cloud of your own choice.
Write once run anywhere: Anthos
It gives the flexibility to run your application in the cloud when you are ready, and it allows you to keep using the technologies you are already using while improving the security. It is a platform that allows customers to run applications on-premise in the Google cloud.
Scenarios of Anthos:
Anthos is based on GKE (Google Kubernetes Engine) and it manages the workload of running on third-party clouds like AWS and Azure, giving the user freedom to deploy, run and manage the application of your choice. This is possible, by enabling Antho's hybrid functionality on Google Cloud Platform (GCP), Google Kubernetes Engine (GKE).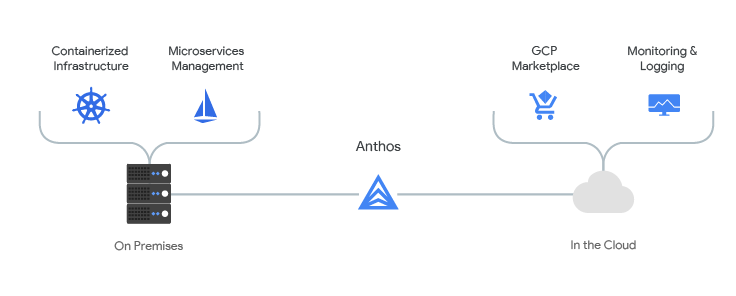 To get started with Anthos, the key steps are:
Set up the GKE On-premises cluster and start running new cloud native apps and combine some of your existing applications into the cluster.
Register the cluster with GCP, and you can view and manage all your GKE clusters.
Install the open source Isstio on your GKE clusters to create the service mesh.
Enable the Anthos config management across your GKE cluster to manage the kubernetes and Istio policies across the cluster.
Products and features of Anthos:
Anthos is composed of multiple products and features.
Google kubernetes Engine
GKF on-prem Beta
Google cloud platform Marketplace
GKE Hub
Cloud Service Mesh
Benefits:
The main advantage of Anthos is, you can learn one technology and use it consistently everywhere.
It gives them a choice that doesn't get locked in to any cloud provider, they can choose to migrate the technology.
Anthos gives you operational consistency, which is the most vital thing. Security can be configured the same way.
You can write your job once and run anywhere, including Google's cloud, other clouds or the user's data center.
Anthos provides the ability to enforce security standards on clusters for the applications.
Conclusion:
Anthos is a technology powered by kubernetes to build and manage hybrid cloud applications, when we compare with other leading public cloud services. Basically we can say Anthos is not just a product but like an umbrella for multiple services aligned with different concepts.