Is multi-cloud data analytics possible? – Bigquery Omni
Posted in by
Tudip
at 07:12
Comments Off

on Is multi-cloud data analytics possible? – Bigquery Omni
Is multi-cloud data analytics possible? – Bigquery Omni
22 December 2020
Earlier when you wanted to use the BigQuery tool for analytics, the most important thing for you was moving data to GCP (Google Cloud Platform).
Recently, Google announced a new term that is BigQuery Omni, which will provide a flexible, multi-cloud analytics solution that allows you cost-effectively access and securely analyze data across multi-cloud without leaving the familiar BigQuery user interface.
Deep-dive to BigQuery Omni
The cost of moving data between clouds isn't sustainable for several businesses. BigQuery Omni gives a new way to perform analytics on data stored in multiple public clouds. Bigquery Omni offers this by decoupling compute and storage.
By decoupling these two, it provides storage that can be scalable and reside in Google Cloud or other public clouds and stateless compute that executes standard SQL queries. Until now, in order to use BigQuery, data had to be stored in Google Cloud only.
BigQuery Omni is powered by Anthos clusters that are fully managed by Google Cloud, which allows executing queries securely on other public clouds.
Anthos hybrid and the multi-cloud platform allow to build, deploy, and manage the BigQuery query engine on multiple clouds.
Here's what the architecture looks like: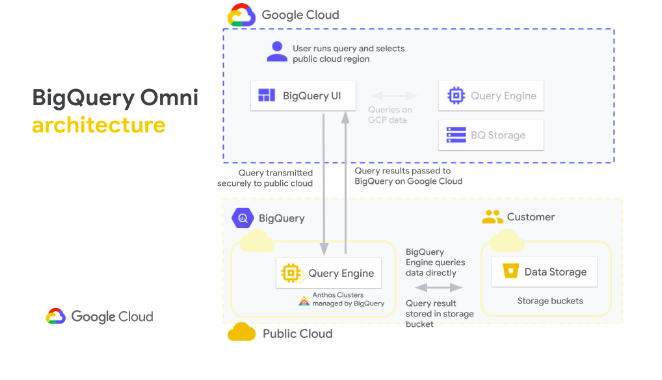 Features of BigQuery Omni
The Bigquery Omni provides a number of features and benefits:
Easy to perform analytics on multi-cloud: There is no need to move or copy data into Google Cloud for analysis from other public clouds. Bigquery Omni provides it in an easier way on the same Bigquery UI.
Get a consistent data experience: It provides a unified analytics experience on your datasets, in Google Cloud as well as AWS and Azure (in progress).
Enable flexibility powered by Anthos: It provides secure run analytics on another public cloud with a fully managed infrastructure which is powered by Anthos. It means you can query data without worrying about the infrastructure.