SCCM (System Center Configuration Manager)
Posted in by
Tudip
at 03:08
Comments Off

on SCCM (System Center Configuration Manager)
SCCM (System Center Configuration Manager)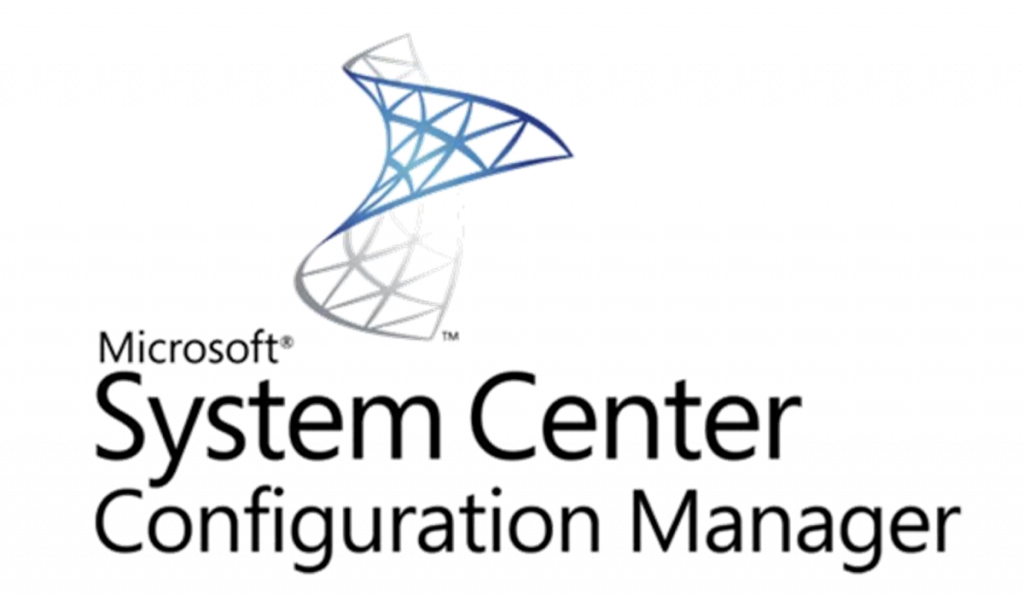 Image source: www.pei.com
SCCM (System Center Configuration Manager)
What is SCCM?
SCCM (System Center Configuration Manager) is a tool developed by Microsoft to manage systems. It was initially released in 1994 and it was known as SMS (Systems Management Server). Later in 2007, it was renamed as SCCM and sometimes it is called ConfigMgr.
Systems
Here, systems mean a large group of computers and devices.
Platform
Earlier, it was only supporting Windows platforms. Now SCCM is evolving to a greater extent and it is able to support systems with platforms Windows, Mac OS, Linux or Unix and as well as mobile operating systems like Windows Phone, iOS, and Android.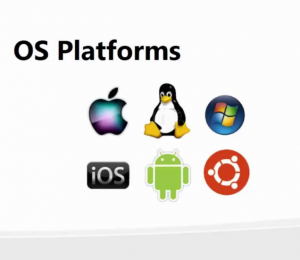 Image source: www.youtube.com 
So, how it manages systems?
Well, it provides the following features:
Remote control

Software distribution

Software Updates

Application Management

OS deployment

Network access protection

Hardware and software inventory

Reporting Services
SCCM Architecture
There are different topologies available for the configuration manager.
One of them is the CAS topology.
It consists of the following components:

CAS (Central Administration Site):
It resides at the top of the hierarchy and collects all information regarding database from its child.

It manages all clients in the hierarchy and performs all site management tasks
Primary Site
It processes all data from its clients and communicates to its parent CAS.
Secondary Site 
It manages the transfer of contents of deployment to sites in the hierarchy.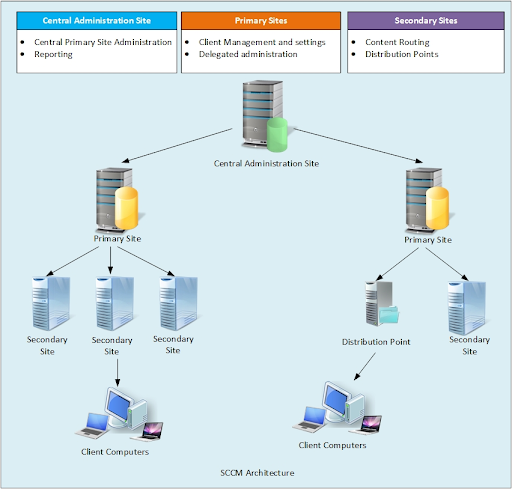 Image source: www.terminalworks.com
So, how it is useful for an organization?
SCCM provides an automated administrative system to manage IT infrastructure which would be done manually.
It facilitates the following:
Increase Mobility and Data Protection
It acts as a well-organized client management tool that supports computers and mobile devices at a single management platform. It allows the administrator to track hardware as well as software inventory, configuration changes and helps in troubleshooting. It increases mobility by providing information about the indulge resources and its utilization and provides endpoint protection to the data throughout the organizations.
Productivity and efficiency increases
It provides reporting services that help to collect and organize information about the systems, applications, software updates, inventory and other operations in an organization. It allows the administrator to track the available hardware and software resources and its usages and thus it increases productivity and efficiency.