Top 5 No-Code Machine Learning Tools
Posted in by
Tudip
at 07:03
Comments Off

on Top 5 No-Code Machine Learning Tools
Top 5 No-Code Machine Learning Tools
15 March 2022
When there is less code required, machine learning becomes more available to businesses and consumers. Until recently, you had to be a software engineer or a computer programmer to truly understand the theory of teachable machines. Machine learning applications and platforms for non-technical, non-programmers have, thankfully, begun to permeate the world.
As per Gartner Magic Quadrant research, up to 65 percent of app development will be performed on no-code/low-code systems by 2024.
Platforms that do not require any programming abilities are referred to as no-code platforms. You can use these platforms if you need AI in your business operations and do not want to hire a programmer or data scientist.
Although the functionality of no-code solutions is limited, they allow you to quickly develop something simple.
No-code application systems have shown a lot of potential in terms of increasing productivity. Such platforms assist organizations in automating and digitizing operations in the absence of cloud-based mobile applications.
In this article, we will talk about the top five no-code machine learning tools that you can leverage for the benefit of your business.
Top 5 No-Code Machine Learning Tools
1. Levity.ai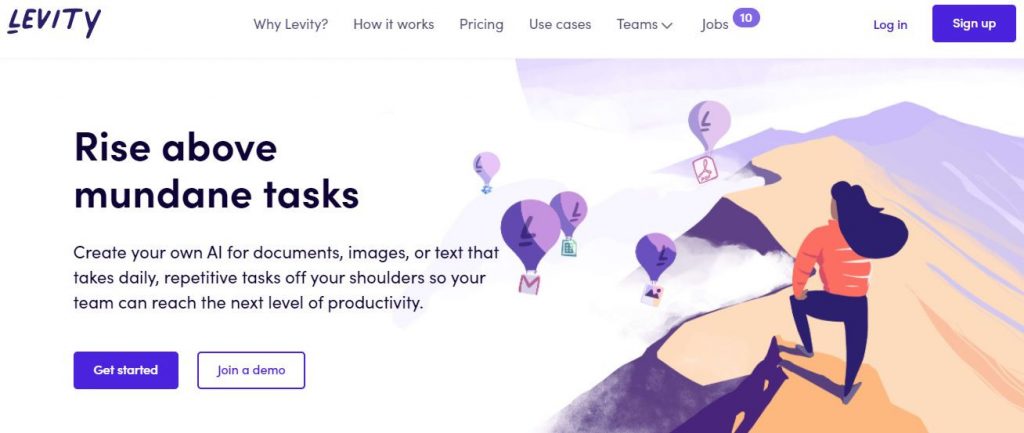 For a long time, AI was prohibitively expensive, making it unavailable to most businesses. The machines were enormous, cumbersome, and costly. Since programmers for these devices were in short supply, they sought hefty wages and payments.
Many businesses lacked adequate data and information. Off-the-shelf AI solutions that help enterprises implement and grow AI strategies for a quarter of the expense of a full-fledged AI team are referred to as AI as a service.
Click here to know more about AI applications in business.
Levity.ai is a Berlin-based business that aims to make AI-powered process automation accessible to everyone. It enables professionals to automate laborious, repetitive, and manual tasks without having to learn how to code.
Levity has chosen to be a horizontal solution, ideal for customer support, marketing, management, HR, and much more.
2. Google cloud auto ML
While Apple is ahead of the curve with Create ML, Google can't afford to fall behind. The AutoML program is similar to CreateML, but it is cloud-based.
Natural Language, Vision, Video Intelligence, AutoML Translation, and Tables are among the machine learning solutions available through Google's Cloud AutoML.
This allows developers with basic machine learning knowledge to train models tailored to their unique use cases. By delivering out-of-the-box conformance with extensively validated deep learning models, AutoML on the cloud bypasses the need to understand learning methodologies or how to design a neural network.
You can evaluate and export the models inCoreML, .tflite, .pb, and other formats after the model training are completed.
3. Obviously AI
Obviously, AI intends to get users from data collection to machine learning assessment with only a few steps – upload a CSV file, select the data analysis you require, and get your outcomes right away, including prompt query solutions utilizing NLP and NLU.
Naturally, AI claims to discover the best algorithm for any use case, reducing training time and allowing models to be used immediately, albeit the level of customization may be limited compared to other platforms.
Their 'what-if' scenarios, on the other hand, can provide actionable insights in just a few minutes of starting, making them ideal for non-programmers.
4. Make ML
MakeML is a programming tool that allows you to design image detection and semantic segmentation frameworks without writing any code.
It lets iOS developers use a macOS program to build and maintain datasets such as performing object annotations in images. They also provide a dataset repository that has some open machine learning datasets that may be used to build a neural network in minutes.
When ball tracking is feasible, MakeML has been shown to be useful in sports-related applications. They also give step-by-step guides for developing nail and potato categorization algorithms, which should be useful for anyone who isn't familiar with machine learning.
Using their built-in annotation tool, which works in videos, you may create a hawkeye detector, which is used in cricket and tennis matches.
5. Fritz AI
Fritz AI is designed to help phone application developers (iOS and Android) include convenient and simple machine learning algorithms without requiring much data science knowledge.
This no-code solution can also be used to create e-commerce and augmented reality apps. For instance, style transmission or posture prediction can be utilized to display your items on a virtual, moving mannequin.
Wrapping Up Top 5 No-Code Machine Learning Tools
That's all for this article. Hopefully, these tools will help you bridge the gap between data scientists and non-ML practitioners. While there is no one-size-fits-all solution, you can always choose a platform to create models or generate datasets at lightning speed.
Furthermore, such tools make working with machine learning a lot more enjoyable. The no-code machine learning approach is shorter and simpler than the traditional process, which also necessitates the acquisition of technical skills. These tools enable you to be more innovative with your data.
You can achieve the same things with a no-code machine learning platform, but without the pricey team of data scientists, and enhance business and product decisions faster.