The CEO Magazine – Tudip Technologies recognized as one of the BEST PLACES TO WORK.
Posted in Uncategorized by
Tudip
at 01:01
Comments Off

on The CEO Magazine – Tudip Technologies recognized as one of the BEST PLACES TO WORK.
The CEO Magazine – Tudip Technologies recognized as one of the BEST PLACES TO WORK.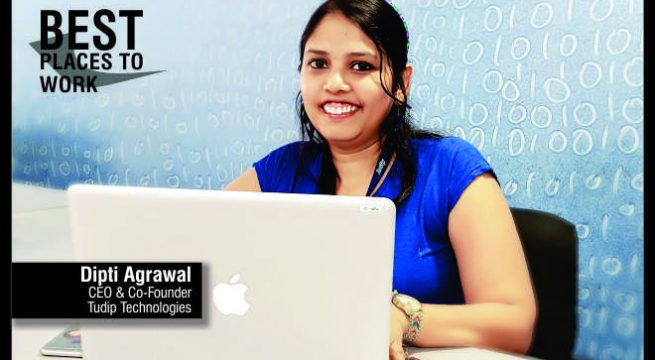 Tudip Technologies: An elite classroom of mentors, innovators, coders and positive thinkers
It requires audacity to fly high & beyond limits of the sky. Seasoned and passionate in their own domain, two young energies Dipti Agrawal & Tushar Apshankar created a collaboration of their vision to outset an enterprise which would focus on the client and their need while providing world class flexible, customized and cost effective nearshoring services-Tudip Technologies. The approach was straightforward; to build a different software services company, that will focus on high integrity and stringent quality implementation. Incorporated in 2010, Tudip Technologies is a value driven Software Services company, with its foundation laid on the pillars of innovation and expertise that delivers excellence in terms of dedicated and business-centric web and mobile solutions. Headquartered in Pune, the company ensures the utmost confidentiality of the sensitive business data and on time and in-budget delivery in terms of dedicated and business-centric web solutions incorporated with innovation and prowess as the tools to achieve business goals. Impeccable high quality, cost-effective, reliable and scalable services are the core attributed dedicated in building an enduring relationship with clients and customers and holding a strong track-record of industry expertise. Tudip Technologies holds expertise under the domain of Web Applications Development, Mobile Applications both native & cross platforms, Quality Assurance (Testing – manual & automated), Customized ERP & CRM Implementation and Maintenance, Development Operations, Consulting across domains, Cloud Computing and Big Data. The company follows the agile methodology and has its own project management system under the label of SteerSimple, that helps track task's priority and real-time progress anytime. It also follows "Near Shore" methodology, where the team constantly interacts with a client.
Tudip Family; Employees standing for each other
With over 200+ Tudipians, footprint in California and channel partner in Netherlands, Tudip works as an extension to the client's team. Fostering an inspiring workplace and a culture of transparency and ownership in their collective conduct, Tudipians are accountable for their thoughts, actions and communication. The work culture is very open where every employee can approach manager without any prior appointments for personal/professional talks providing equal opportunities to everyone. Everyone in Tudip – from new recruit to the Director – is treated the same. All employees receive the same workspace, amount of employee leave time, benefits and other allowances. We believe respect is not taken but given by heart. The company offers the freedom to live and work the way employees want to. The flexi-time policy allows you to decide when to work and upholds expectations for a balanced lifestyle. There is no enforced dress code as attire has the little bearing on your integrity. All employees are encouraged at Tudip to keep a constructive and optimistic mindset to work towards a solution. Tudip team is obsessed with technology, innovation and powering competency. The management persuades and motivates every individual to polish his/her skills and uniqueness. Routine training programs like monthly corporate trainings, team level trainings are held to help them evolve as capable leaders who can handle the future responsibilities and challenges in the globalized world. The work culture policies of Tudip revolve around growth and betterment of every Tudipian. To stamp out drooping shoulders in the office, monthly outings and monthly celebrations are a part and parcel work culture here at Tudip Technologies. The company recently celebrated the 7th anniversary of Tudip at Imagica followed by refreshment in Lonavala.
Forces behind Tudip Technologies
"We are not just a vendor but we are technology partners for our clients. We are a core technology company. Our hard work speaks for itself, as our clients had been driving the strongest referral traffic towards us. "
Dipti Agrawal,
CEO and Co-Founder, Tudip Technologies
Packed with expertise and polished skills, Dipti is the perfect blend of creativity and innovation. Her approach always renders towards the accomplishment of long-term goals. She is a visionary entrepreneur with a belief that it's all about providing value to its clients and money is just a byproduct of that process. She has a great domain expertise along with right kind of exposure to international markets. Dipti has worked with various multinational billion dollars + club companies.
"Starting with just 1 line product idea and turning it into a market ready product, is our USP. Shipping a product out in the market is an ultimate promise to our client."
Tushar Apshankar,
CTO and Co-Founder, Tudip Technologies
Seasoned with 17 years of technical expertise, Tushar Apshankar breathes, eats and lives coding. He holds MS degree from the prestigious Louisiana State University, USA. Tushar Apshankar has been part of quite a few successful product and services start-ups in his career.
Known for its integrity and innovation, Tudip Technologies stands above and beyond by being a strategic forward thinking consulting & development group, defining complete business solutions, processes, technologies, metrics and revenue. The company has recently embedded its successful completion of 7 years. Tudip Technologies launched India's biggest Code Hunt "Tudip Tech Star in 2016". By the end of this year Tudip would be venturing into new markets like UAE, South America and partnering with different technology partners and funding product companies.